News "Facedowniennes" de Gideon, Overcome, Onward to Olympas, Ace Augustine et Your Memorial
publié par le 25 février 2011
Gideon vient de publier un nouveau titre de son prochain album "Cost". Pour écouter "Unworthy" c'est par-ici !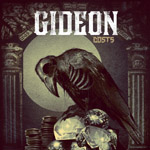 "Cost" sortira le 1er mars.
PROCHAINEMENT :


Overcome "The Great Campaign of Sabotage" sort le 1er février.


Onward to Olympas "The War Within Us" sort le 15 mars.
Déjà sortis :

Ace Augustine "The Absolute".


Your Memorial "Atonement".
En outre, tous ces groupes seront à l'affiche du Facedown Fest 2011 qui se tiendra les 8 et 9 avril prochains. Les infos c'est par là !